Willerup Brothers | Trip reports | Our friends
Trip report: Climbing in Tenerife April
1994
---
Guide-
books
Andalusian Rock Climbs by Chris Craggs
Location
Tenerife, Spain
Topos
Available from the bar "Los Gemelos" near Arico
Other
It's hot in Tenerife so if you go there in the summer you would only be climbing in the shade
Brought to you by Willerup.com

Five days on the island with three days of climbing in two brilliant but quite different areas, Arico and Las Canadas. Both areas are very well bolted for climbs ranging from French 6a and above. We did not bring a guide book from home so the first problem was to find the places and figure out what climbs we could do. A climbing shop in Porto de la Cruz helped us finding Arico after quite a lot of driving around -- the crags are not signposted to say the least and the access roads can only be tackled by a hire car! At the crag in Arico we were lucky to get in touch with some local climbing dudes who gave us copies of topos for the crags in Arico and Las Canadas. They are available as well in the local bar Los Gemelos (The Twins) for copying. They serve a good strong coffee as well.

Arico is a narrow gorge with about two hundred bolted routes about 60 feet height. Most routes are face wall pocket-pulling exercises, some are seriously overhanging flake and crack systems. Throughout the day, routes can be found in both sun and shadow. We started with the former but soon realised that this was not a northern European sun shining. Two routes on the frying face leaves us gasping after our breaths wanting to go straight to Playa Las Americas to hang around on the beach instead.

Our first climb was done before we got our hands on a topo. We judged a line as doable, racked up and I took the lead. Tricky stuff with finger-pulling, a delicate traverse and a not-so-comfortable lay-back to end up under an overhang that meant business. A couple of desperate attempts convinced me that this was not my league. My brother Mathias gave it a stab with the same result so instead he traversed one or two routes to the right attacking the overhang at its weakest spot where he boldly pulled up and finally reach ed the tree belay. We were relieved to learn afterwards that we had attempted El Regreso del Patron backing off onto Chungo Chungo Ramalaso -- both 7a's! With the topo in hand Mathias tried Barrio Conflictivo (6a+) next. A brilliant climb that had everything to offer: an initial crack, lay-back, a tricky overhang, a delicate slab and finally clipping into the top bolt hanging literally in two pumped fingers only.
---

A brilliant climb that had everything to offer: an initial crack, lay-back, a tricky overhang, a delicate slab and finally clipping into the top bolt hanging literally in two pumped fingers only

---
The night was spent camping inside the gorge. Very picturesque, quiet, clear starry night but quite windy. The next day we were woken by early rock bums who had bagged four or five routes by the time we got our act together. We started off on Esponlon del Rampa (6a) which took a couple of attempts. Papeo Chachi (6a) was delicate slab climbing with good resting positions in an adjacent diedre. Super Lopez (6b), a very steep but most enjoyable finger exercise. McNesio (6a), a short overhanging problem which required determination. Corazon de Metal (6a+), continuous with no resting spots - the pace has to be kept up. We left the crag in the afternoon, quite knackered with aching fingers and forearms. The evening was spent in Las Americas, the English colony, for some well-deserved (we thought) partying.
Las Canadas was up the next day. The crag is a largish assembly of weird-looking bulgy rock formations set in the most stunning surroundings of the volcano, Teide, that governs the centre of the island. We felt like climbing a bit without the ascertaining bolts, starting with Diedre (IV+) which was a full pitch of fun climbing on good rock and more possibilities for placements than even the most paranoid climber could hope for.
Mathias lead Waterloo (V+) next, which proved a very strenuous test of climbing in determination. A perfect crack crossing up the face to the left that took good nut placements and large cams. No real resting places and a burning sun made it a very pumping climb. Not even the stance gave a rest: when he hung there in one arm in a large flake trying to clip in, I thought we would see the first serious wipper. Phew, he got it. Going up second, I found a bunch of hexes left on a ledge which showed how desperate he had been. We now felt like climbing a bit in shadow, with bolts. I lead a route we judged to be No Repercute (6a) which turned out to be quite a lot more serious than the grade would suggest. Overhanging all the way but with good rests between pulling over the numerous roofs on small but good holds. The crux near the top became the most terrifying series of moves I have ever done. Moving up left, and out, from a comfortable ledge on imaginative holds, left foot up high to gain a little knob with the void straight below. The only thing to do is to rock over on the knob, no handholds just flat hands for balance. Exposed! Slipping would mean a ten foot dive with the rope put awkwardly between the legs. What felt like ages and litres of adrenaline afterwards, I managed to get the right foot on a knob near the left, clip a quick-draw into the saving bolt and get the rope pulled up there too. The rest of the climb felt comparatively easy and it felt pretty damn good to be on the top - catching the setting sun from the other side of the crag and a tremendous view of the volcano rising in the distance. That is why I climb, I thought, getting shit-scared and enjoying a calming view a moment afterwards. Pretty silly, really.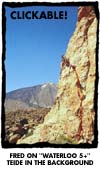 Next day, after a bit of beaching, we returned for a quick climb at Arico. El Senor de las Bestitas (6b), was a typical and once again quite scary farewell to a few days of brilliant sports climbing. Although the developed crags on the island offer short hard routes, there appears to be vast amounts of rock with great potential for adventures in the higher and less accessible regions at the foot of the volcano and elsewhere. Certainly worthwhile if you are tired of crowded crags of other parts of the world. Here, you're on your own.
The Climbs
El Regreso del Patron (7a)
Barrio Conflictivo (6a+)
Esponlon del Rampa (6a)
Papeo Chachi (6a)
Super Lopez (6b)
McNesio (6a)
Diedre (IV+)
Waterloo (V+)
No Repercute (6a/b)
El Senor de las Bestitas (6b)
---
1996 - 2018 Willerup Brothers