Why Jethro Tull?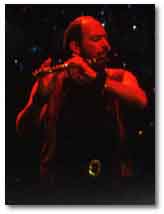 The evening that Fred and
I met Ian Anderson:
---
By Mathias
---
MAY93: I had traveled all the way from Denmark to Bristol, England to visit Fred my brother; to practice some rock climbing and to see Jethro Tull play in Poole and the day after in Portsmouth where our cousin Olav was to join us. This reminds me how we came to be Jethro Tull Disciples. This was because of Olav. He was the first one to expose Fred to the Tull classic "Songs from the Wood" on a skiing trip to Norway. He played on his walkman with mini-speakers that he set up in their little room in the cottage, and they were singing it going up the ski-lifts the following days. Fred bought the album as he got back to Denmark and played the song for me. Interesting stuff, a bit too complex to understand at first. But I got a copy of the song and found myself playing it regularly. After a year or so I discovered Thick As A Brick on the local library and was intrigued by the catchy guitar and flute tunes in this masterpiece.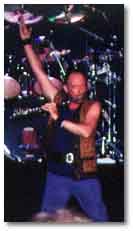 The big breakthrough for us both came on the 22nd of June 1991 in Aalborg, Denmark where cousin Olav had invited us both to an open air festival featuring Jethro Tull. The gig opened with "Cross-Eyed Mary" from the Aqualung album - an unknown song for the both of us at that time. The flute intro was played by Ian being rolled on to the stage in a wheel chair surrounded by doctors and young nurses. After the intro he suddenly jumped up from the chair and the show was well on its way. From that moment we were hooked. I have since bought all their albums (on vinyl) and later when Ian Anderson decided only to publish on compact disc I bought a CD player and have now a close to complete CD collection as well.
What is it that makes Jethro Tull so special you might ask. I believe it to be a combination of several things... The lyrics. They are intelligent and interesting to read/listen to. They reflect Ian's thoughts and feelings at the particular moment in his life when he wrote it. The songs span over a period from when Ian was 20 until now and vary a lot in content which brings me on to the second thing that makes Tull so unique. The variety of material. The band has released over 30 albums over a period of 27 years and not only are the lyrics extremely varied but the music as well is very different. We have superb acoustic and very melodious pieces like "Wondring Aloud", "We used to know", "With you there to help me" on the first albums which are all very personal and describing Ian's views on things like religion, love, politics and family. Then followed the so-called concept albums like "

Thick as A Brick" and very complex but yet superb "A Passion Play". Then there is the more folky albums like "Mistrell in the Gallery", "Songs From the Wood" and "Heavy Horses" featuring favorites like "One White Duck", "Jack-in-the-Green" and "Acres Wild". After that period things started to get a little bit more hardcore with a touch of heavy metal sound to it. "Stormwatch", "Broadsword and the Beast" and "Crest of a Knave" would fit under that category. These three albums contain some of the new
er classics like the superb "Flying Dutchman", "Seal Driver" and "Farm on the Freeway" to name a few. The present "sound" which I guess is more like regular rock can be found on "Rock Island", "Catfish Rising" and the latest release "Roots to Branches" giving us songs like "Strange Avenues", "The Whalers Dues", "White Innocence" and the melancholic "At Last, Forever".

Okay - enough about the variety of music and lyrics. The thing is - even with the diversity in styles, Jethro Tull has been able to keep a very distinct sound, I guess mostly because of the flute and the capo 3 on the guitar. The thing that has kept the band "alive" through so many years could also be the fact that there has been a regular change in the line-up with Ian and Martin Barre as the only original members. (Okay Martin being almost original - he missed the first album). That has given a lot of different sounds contributed from the various keyboard players, drummers and bassists.

Anyway - one last thing is the consistency of Jethro Tull and Ian Anderson. They have always done their own stuff - never been tempted to follow fashion. They have never been on any kinds of drugs and they are all intelligent people with families and Ian even runs a salmon farm on the Isle of Skye employing over 400 people. Remember to buy Isle of Skye salmon next time you are spending your money on expensive fish. It is called Strathaird.

Well I guess I was supposed to tell you about the first time we met Ian. It was in Poole after the concert. We walked around the concert hall and at the back entrance we saw Andy Giddings (the keyboard player) and suddenly Ian came out walked past us on his way to his car. We were in a complete state of chock, but Fred did manage to utter "Thank you for a good concert", though Ian didn't seem to pay attention. As he was almost in his car I panicked and shouted "Ian!". And Ian then looked at us, and I continued "See you tomorrow in Portsmouth". He didn't say anything and seconds after he was gone. . This was a big moment in our lifes and with stars in our eyes we went back to Fred's car to sleep. What an evening.

Postscript: In the winter of 1997 our cousin Olav actually managed to become a good friend of the band - a long story which he might share with you one day...